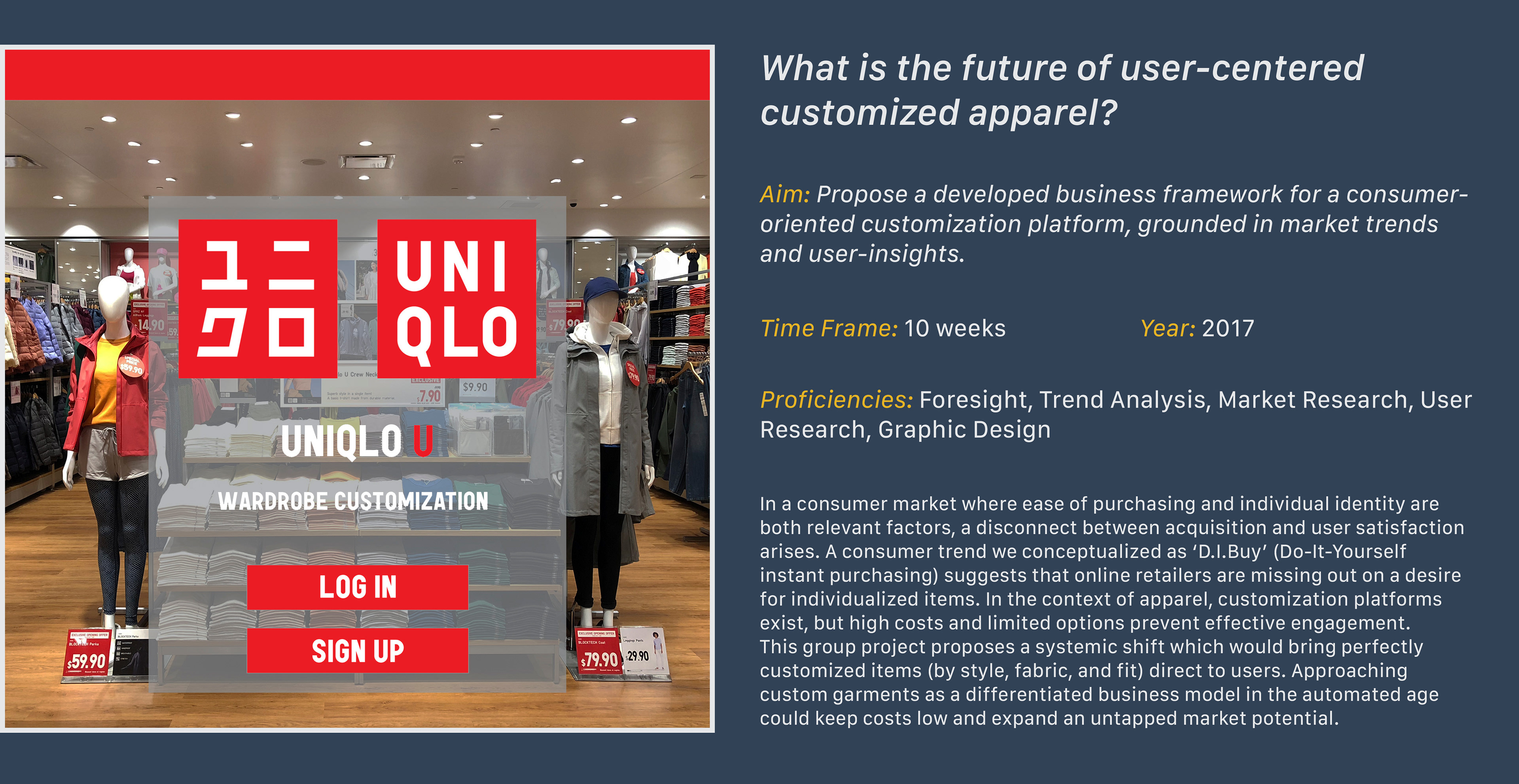 We have identified an unoccupied consumer market-space. DIY reemergence suggests a desire to take part in the creation and to impart ourselves onto the items we own. Simultaneously, there is a greater drive for instant consumerism, to receive items quickly and with little effort. These two trends suggest that consumer market spaces are lacking efficient customization platforms. We propose a platform for wardrobe customization in the fashion industry, a product which we have aligned with Uniqlo.
Uniqlo has proven themselves as a strong selling force in Japan. Since spreading to global markets, the company has greatly increased brand recognition. Uniqlo is succeeding in North America, but faces strong competition in H&M, Zara, and Forever 21. There is fierce contention between these cheap fast-fashion brands, and Uniqlo has a lot to gain. We propose the implementation of this platform as a means to get ahead of the competition. This notion of fitted customization stands to dramatically change the way we purchase clothing. The future could see a society which consumes only unique items. Thus, being the first to capitalize would be an invaluable step towards market acquisition. Consumers have not yet been shown the true potential of customization, and Uniqlo is poised to demonstrate it.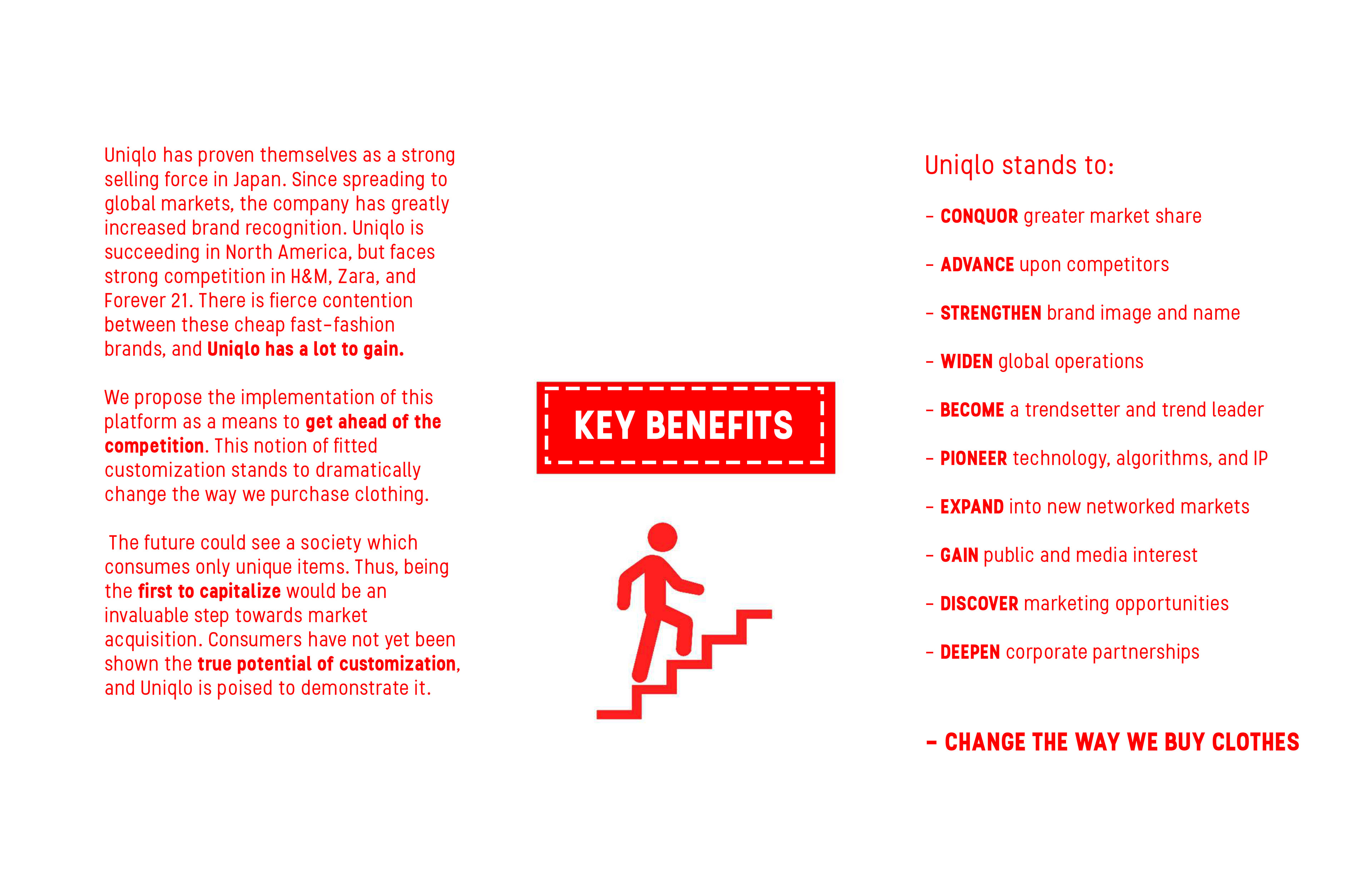 Brand
 and Competitor 
Analyses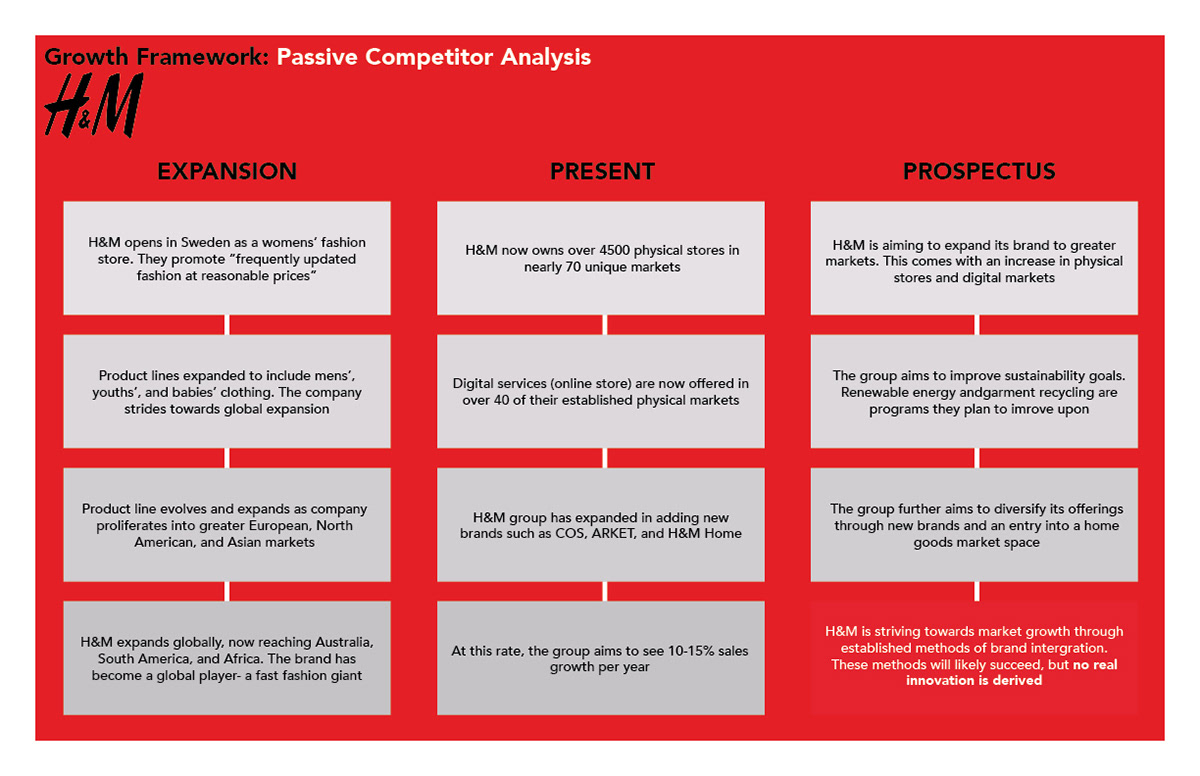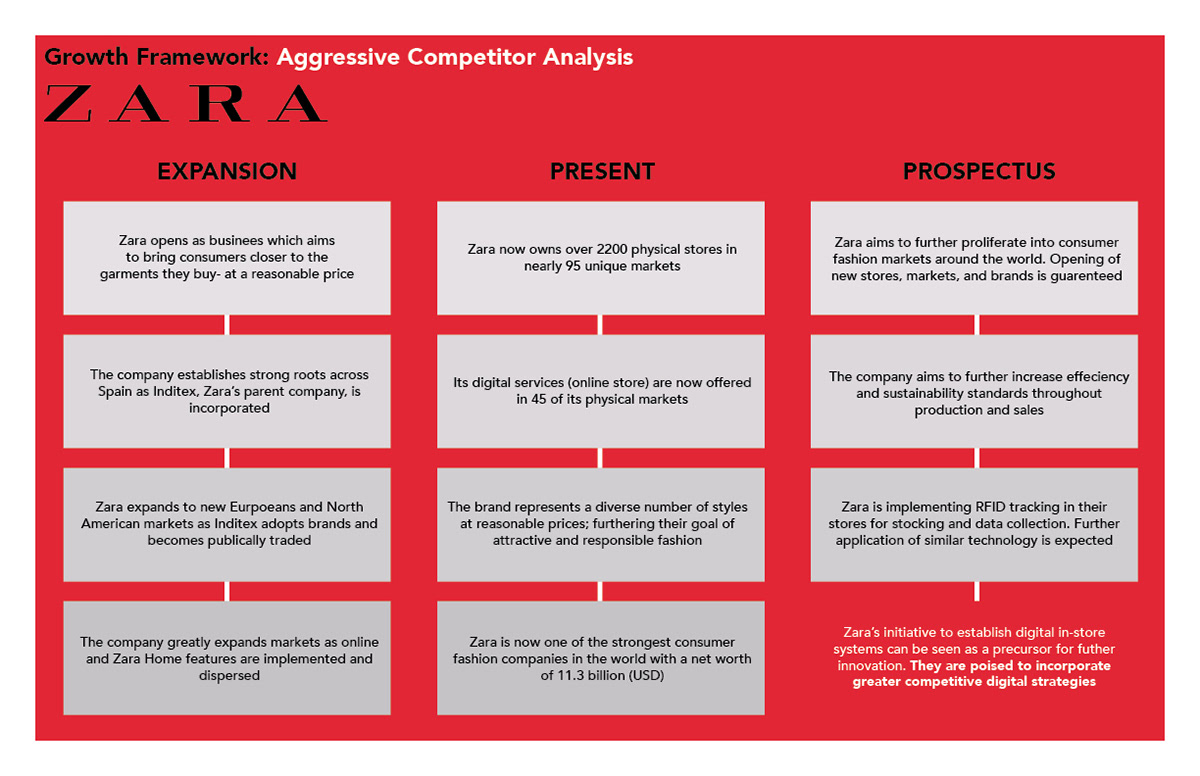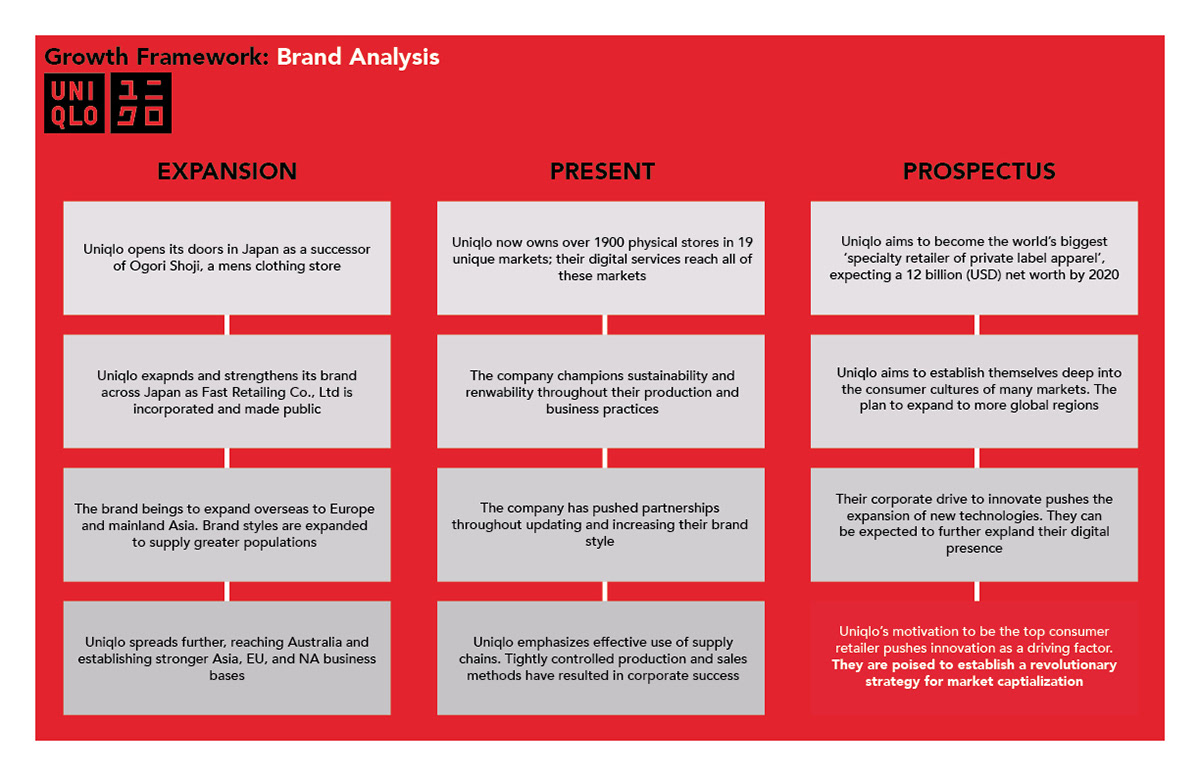 Value Proposition: Platform Concept Video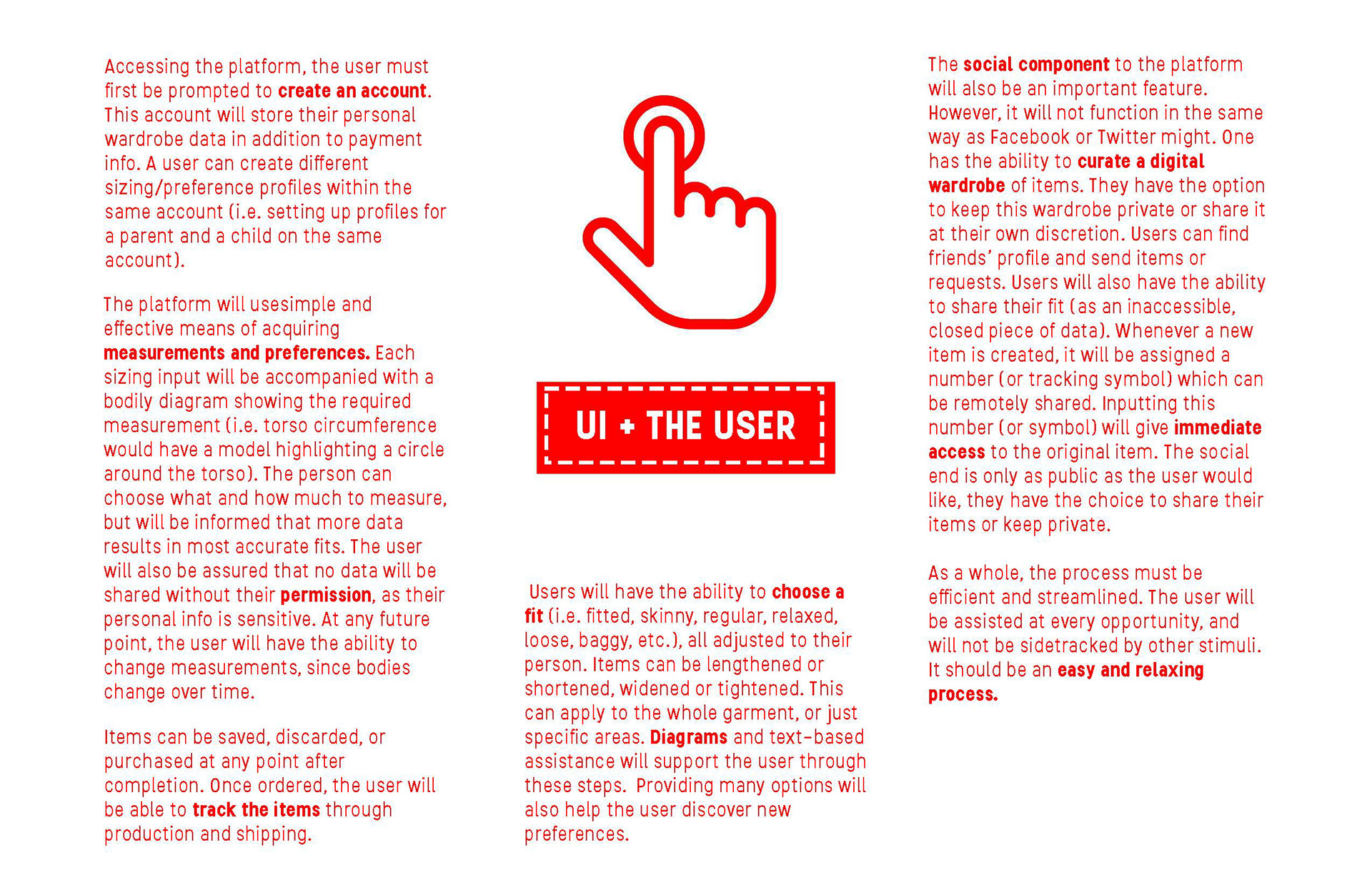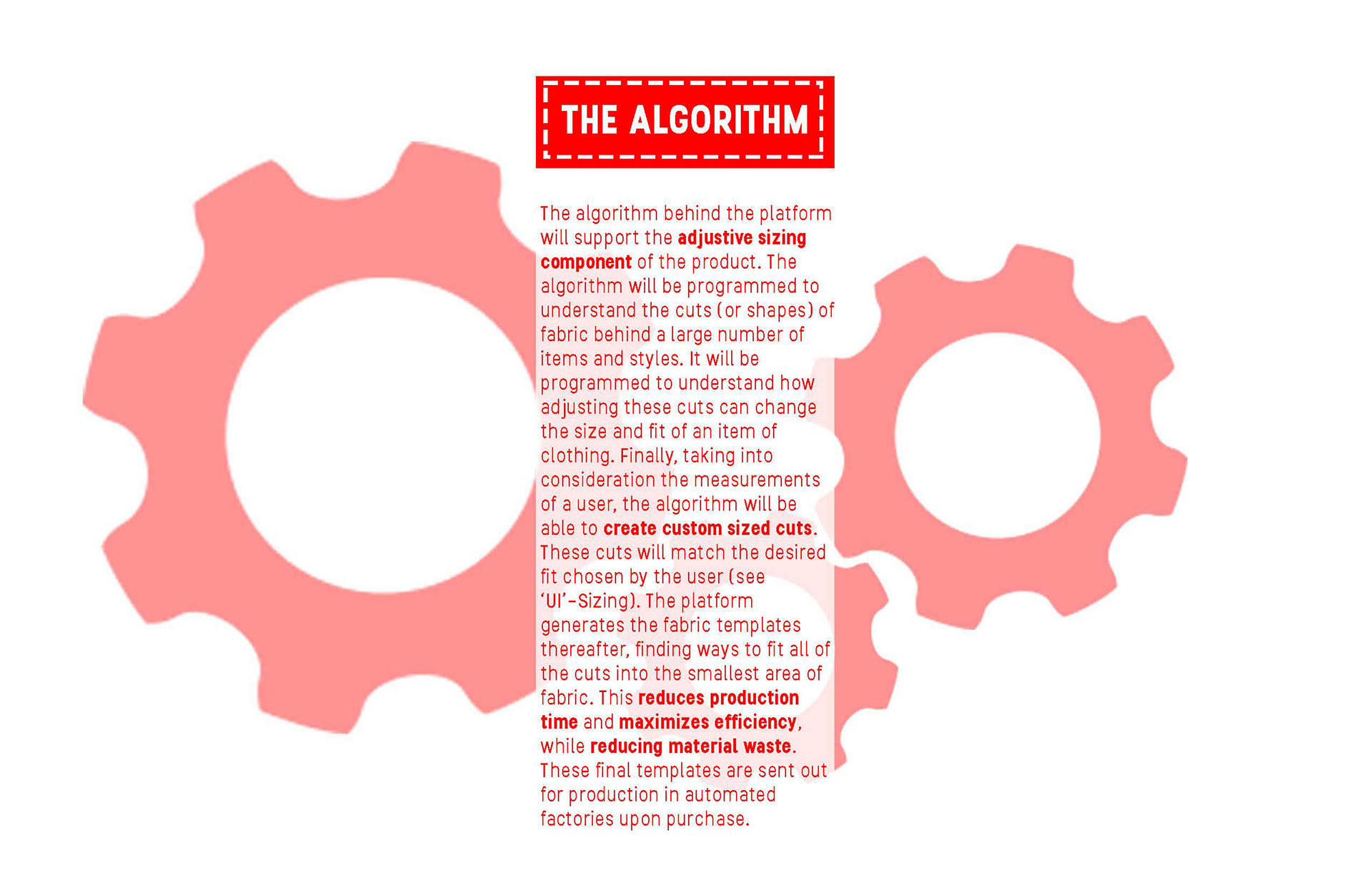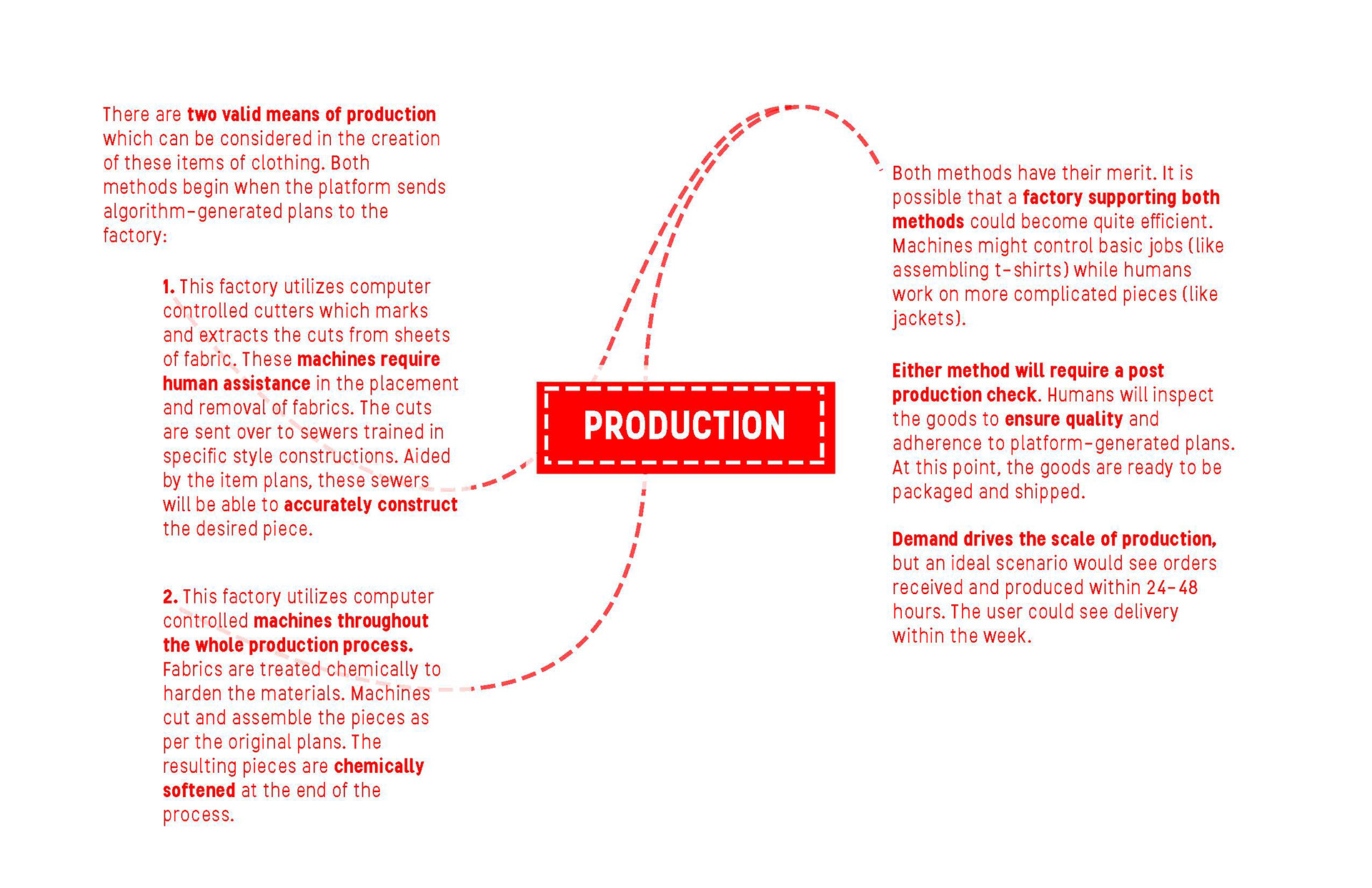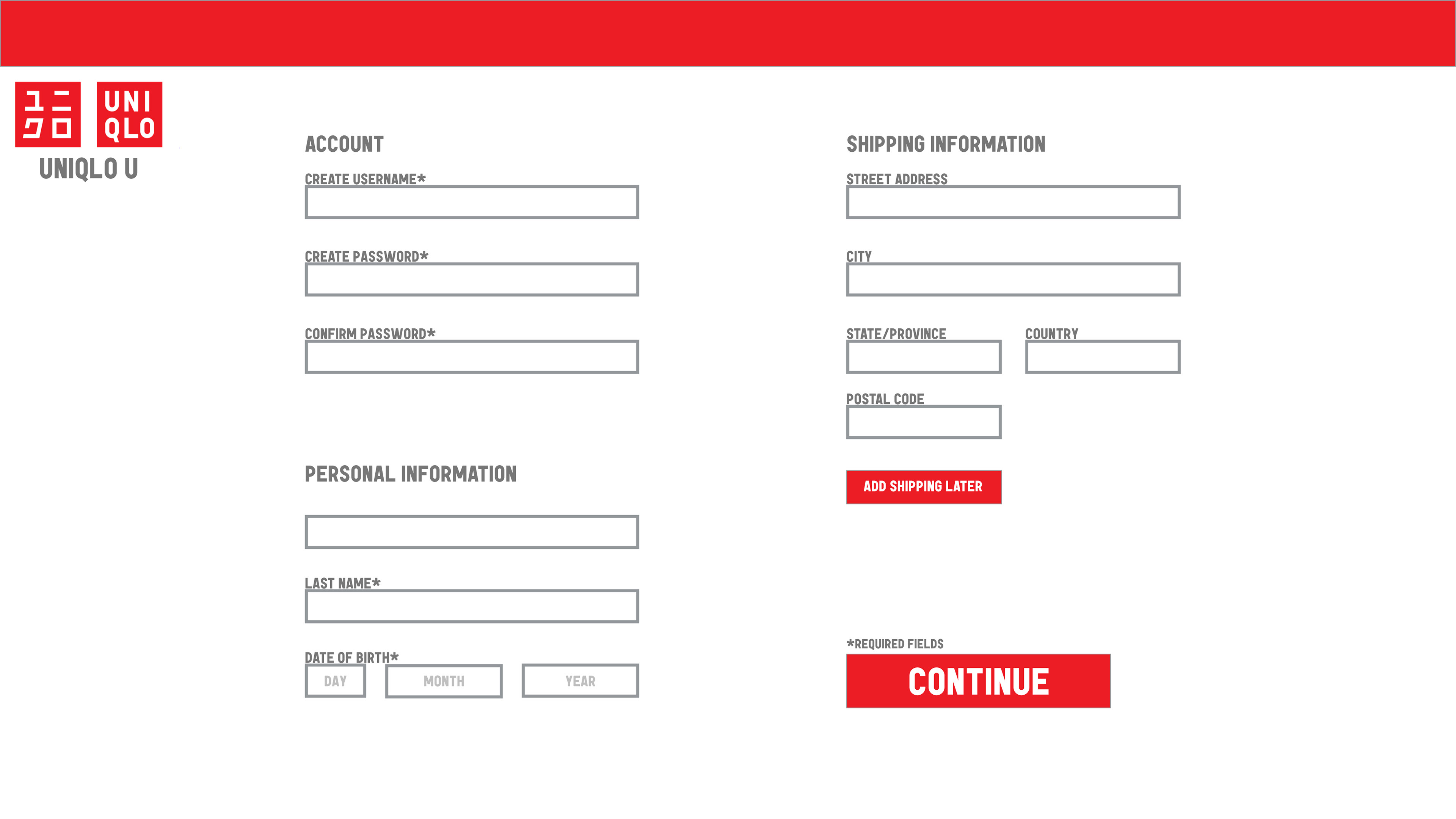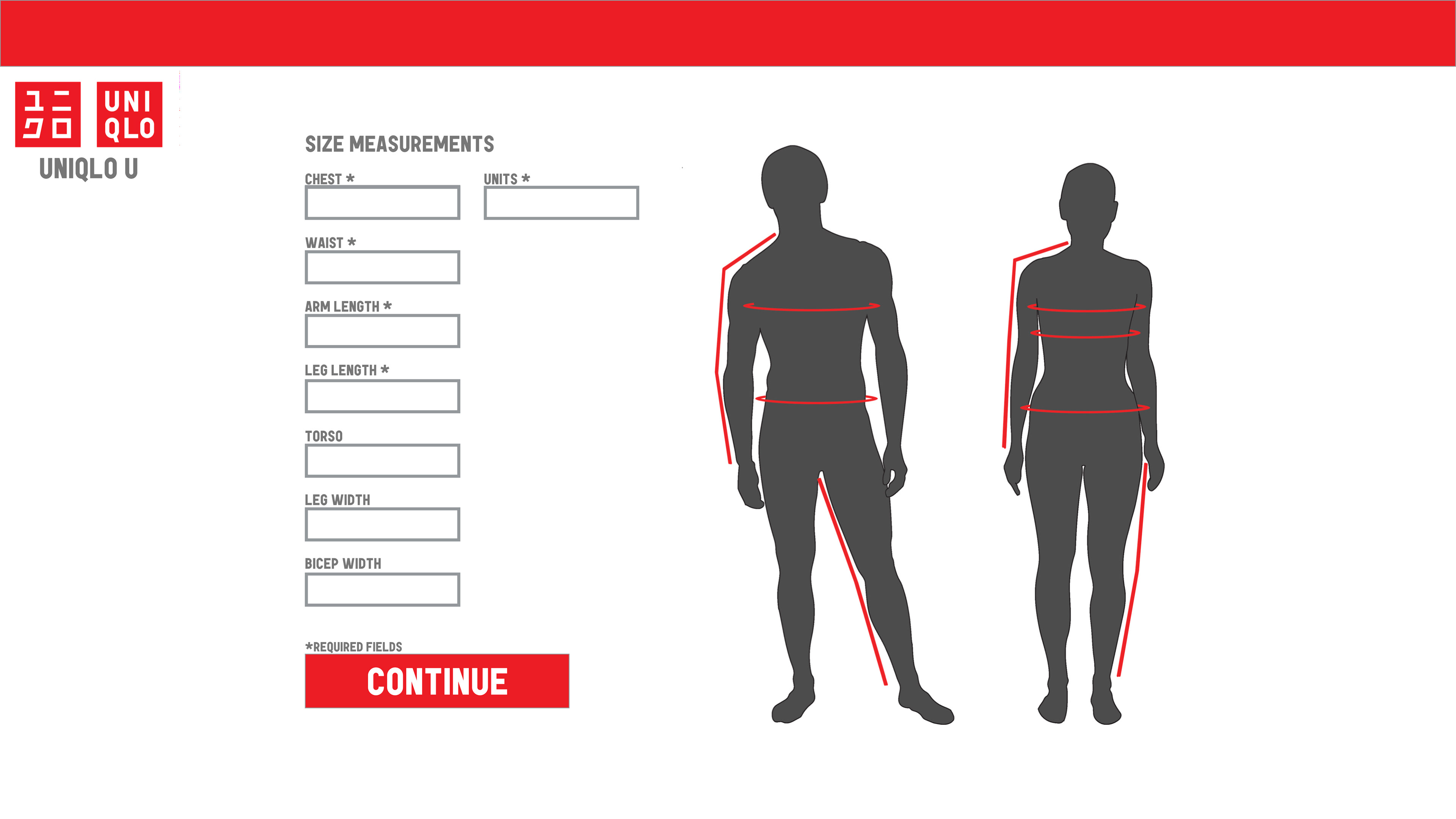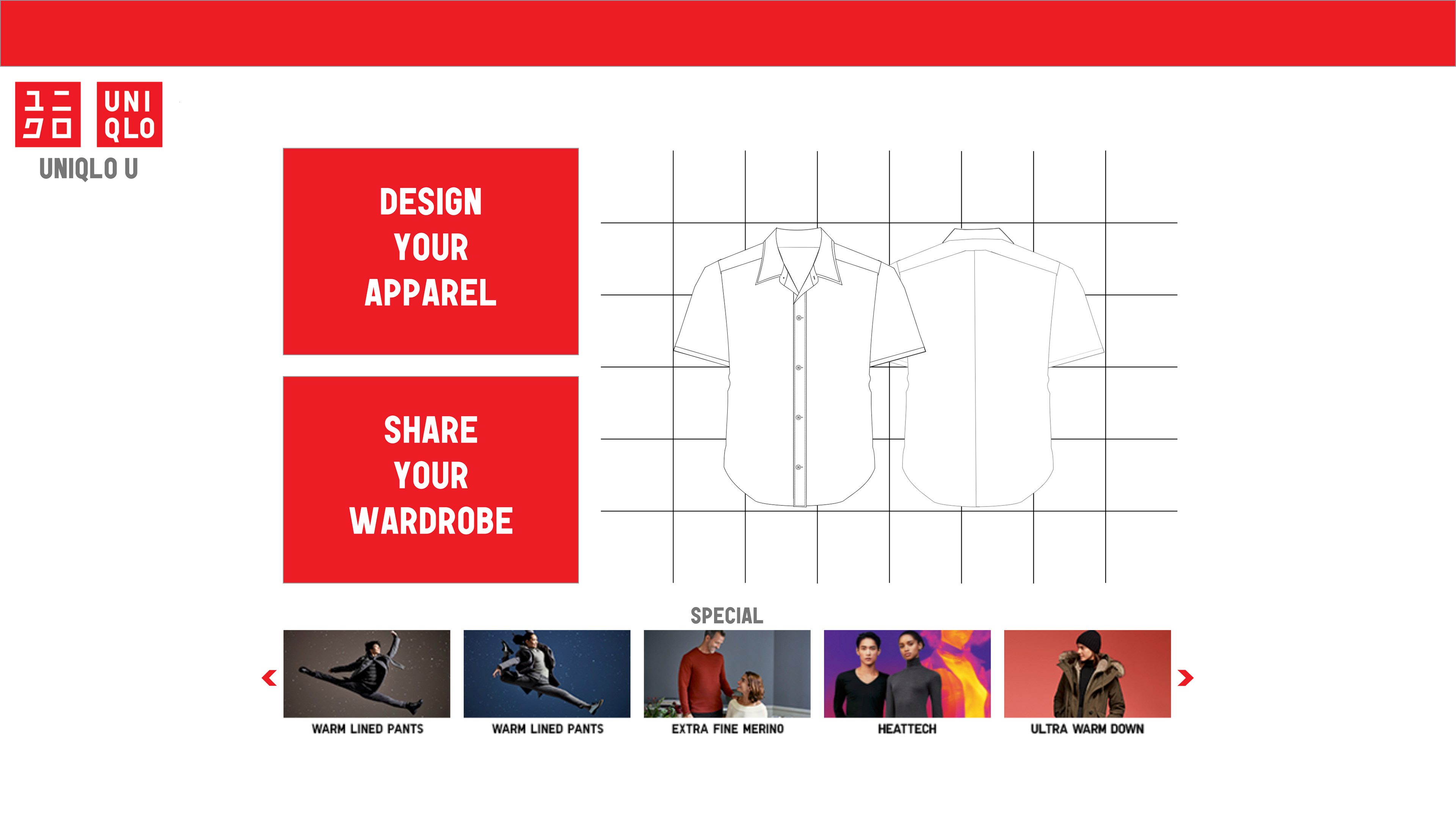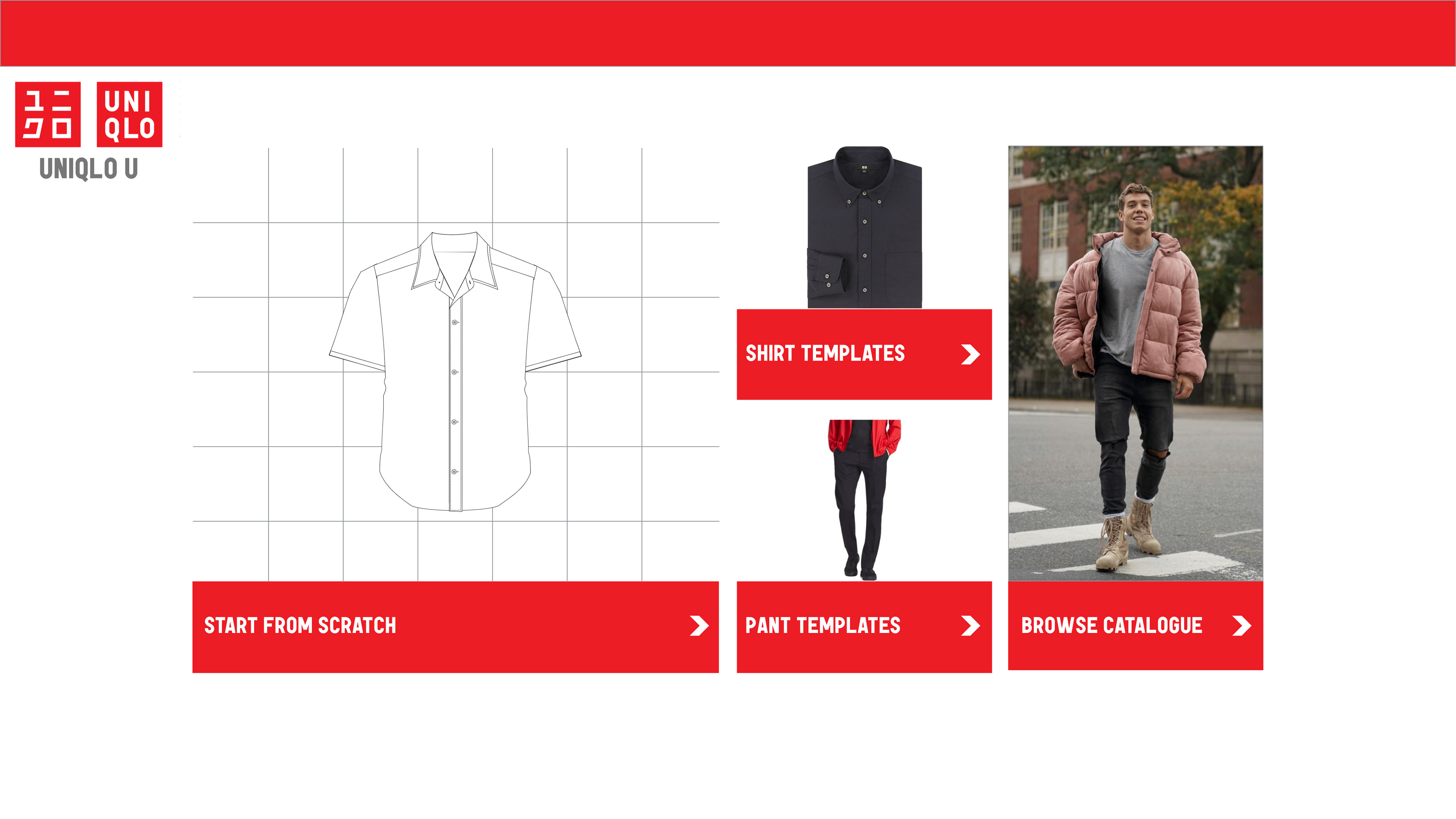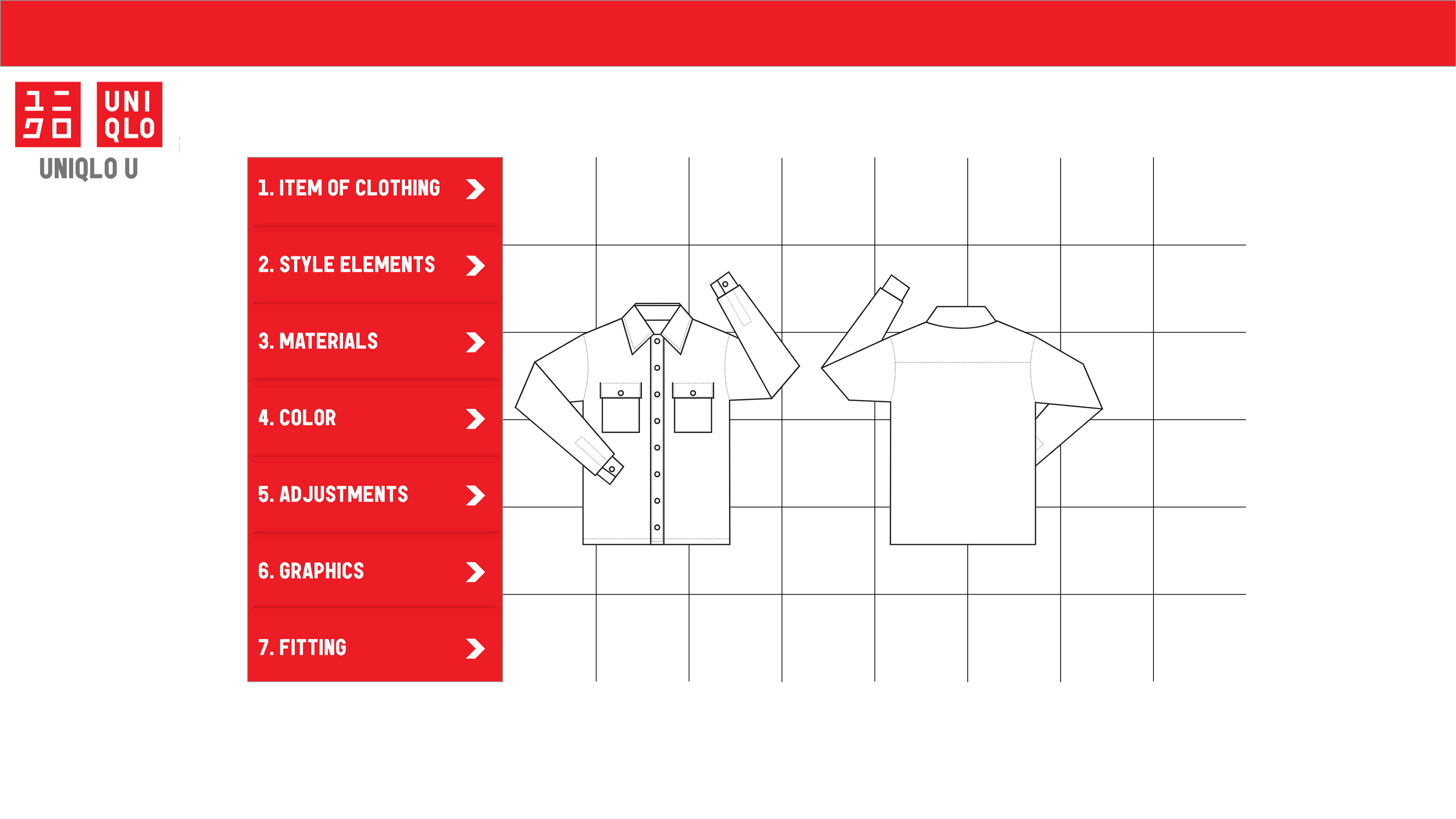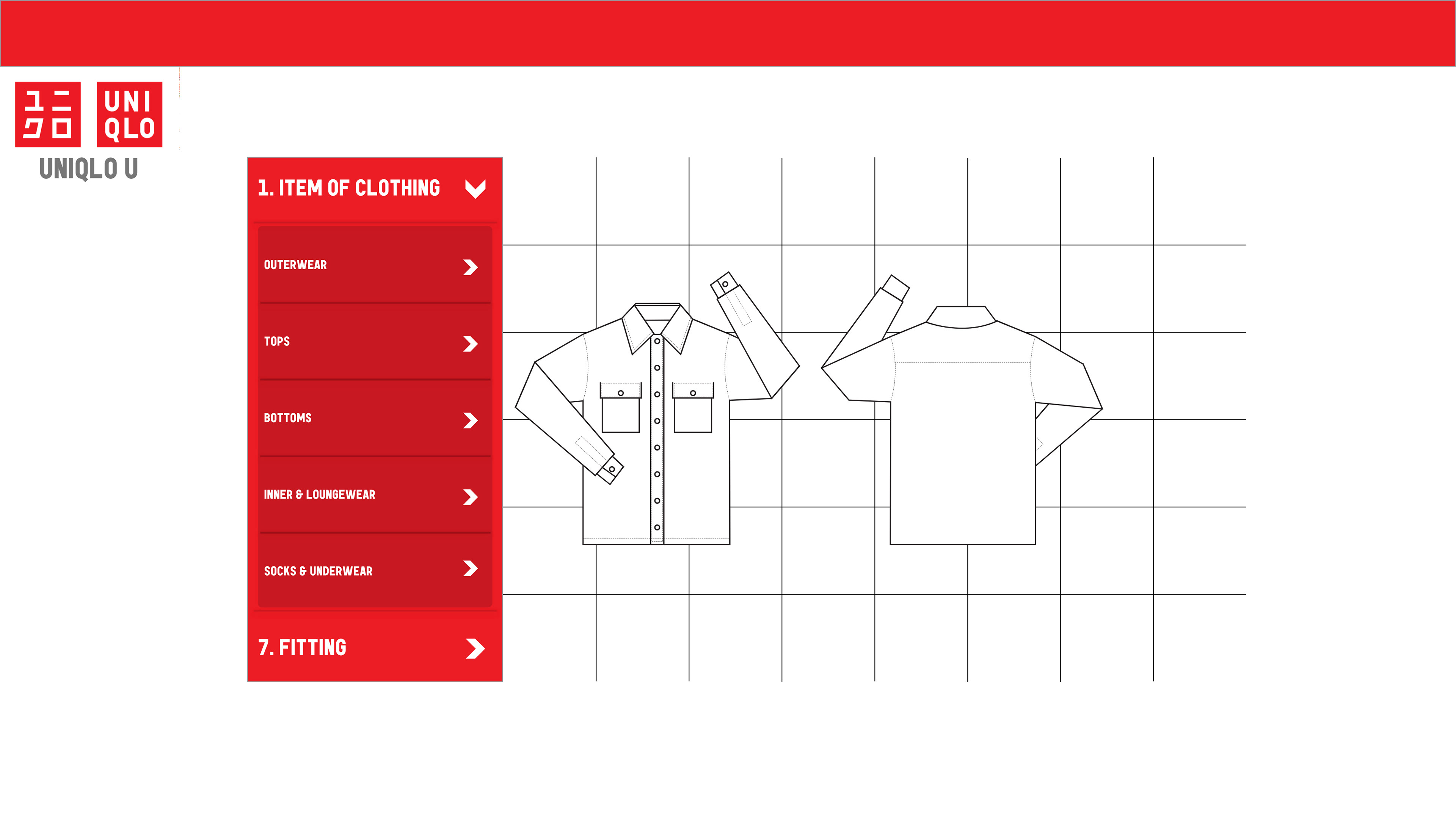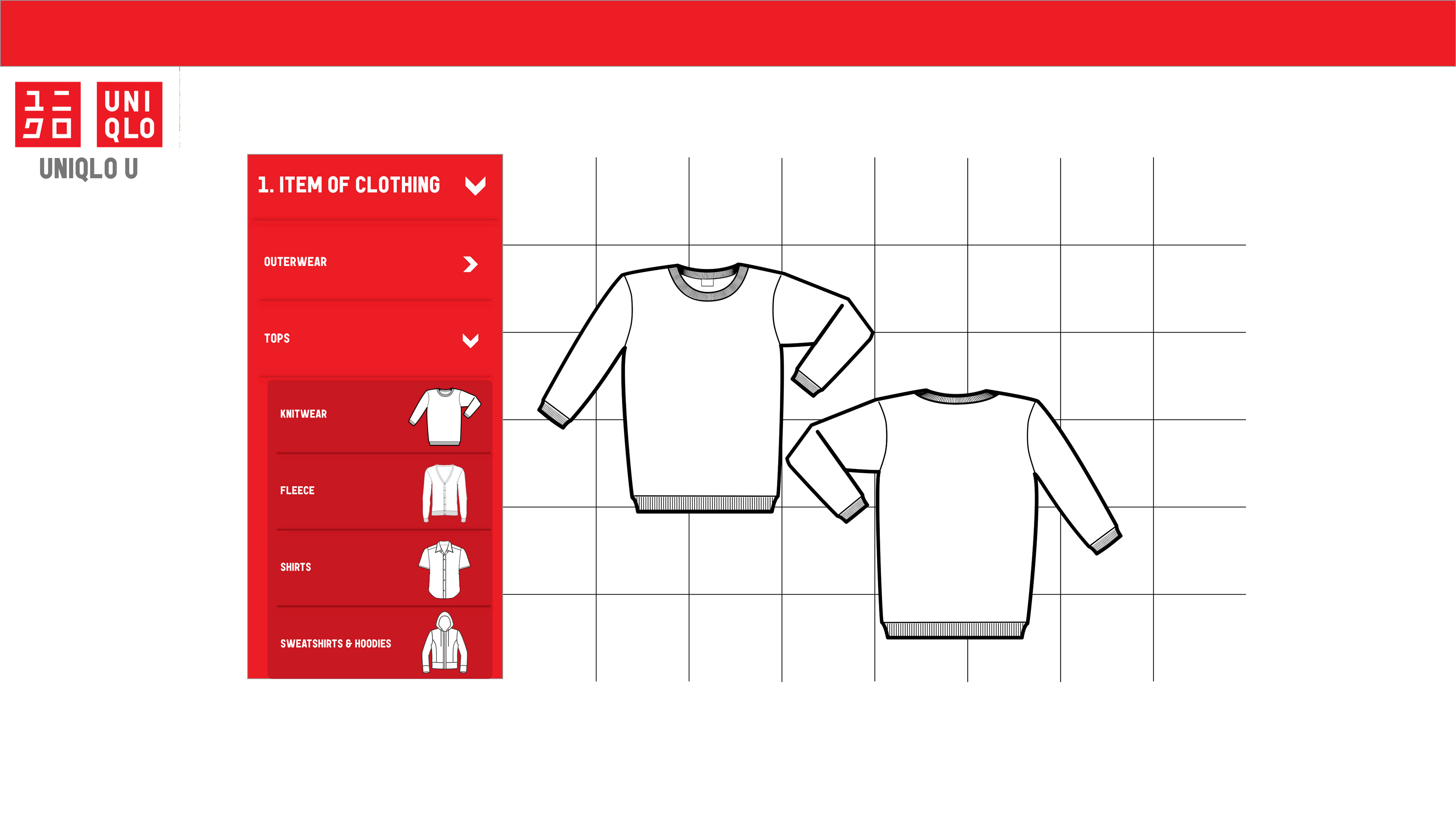 Spencer's alarm goes off at 7:30, the same as every day before. He puts on a large gray button-up and khakis, the same as every day before.

He has never felt confident in his own body.

He's a bit too tall and skinny.

No clothing has ever fit quite right

, and he has come to terms with that. He heads off to work, the same as every day before.
At lunch, Spencer goes out to grab a sandwich. He bumps into his old friend Conor. It's been years. "I almost didn't recognize you," Spencer remarks.

Conor looked much better than he used to.

He had developed a great fashion sense and suddenly

Spencer feels jealous.

He brings up Conor's outfit in conversation and catches that his old friend uses Uniqlo U to curate his wardrobe.
Spencer rushes home after work.

'Today marks a new point in my life,'

he thinks to himself. He sets up a Uniqlo U account and begins putting in his bodily measurements. He feels embarrassed as he remembers just how slim he is. 'Who cares?' he thinks, 'I'm going to finally look good in my clothes. He inputs some style preferences, taking inspiration from fashionable celebrities.
Before long his account is set up. The platform suggests items based on his preferences. Spencer eyes some good looking items, and adjusts them to his liking. He rates the suggestions and the platform provides more tailored items. After some time, he has amassed a stylish wardrobe. He purchases multiple items and eagerly awaits delivery.

For the first day in a long time, he will be the stylish one.
Jaques loves film more than anything else in life.

He grew up idolizing the Han Solos and Vito Corleones of the film world. One of his favorites is Blade Runner. The world-building and sheer spectacle of the piece had him in awe through countless viewings. Jacques was overjoyed when he heard that Blade Runner 2049, a sequel to the original, was being produced. He watched every trailer and clip in anticipation of the movie. He even purchased advance tickets for the midnight release of the film. October came and Jacques went to watch the film. He left thoroughly satisfied with the outcome, feeling that it had done the original justice.
Jacques was intrigued by Ryan Gosling's character 'K', and the look he embodied.

He wants to emulate the look,

but is having trouble finding the similar pieces in his size and price range. His friend mentions using Uniqlo U, a new customization platform, and suggests that he try there.
Jacques finds the platform and creates an account with his bodily measurements. Guides and graphics help him complete this process with ease. In short time he gets to the creation portion of the platform. The most important piece to the look is the lined leather jacket.

Jacques spends time adjusting and perfecting the piece to make it look exactly like the film version.
Jacques completes the order and pays. In about a week's time he receives a package containing the jacket and other items. He tries everything on and is happy to find that the fits are perfect,

everything is just like in the film, exactly as he wanted.
Heading into their upcoming season, the University of Toronto intramural ultimate frisbee decides to look for new uniforms. Last year they had purchased the outfits from CustomInk. However,

the team found that the designs offered were limited and uninspired, the sizes were off, and the clothing quickly fell apart over the course of the season.
One evening while hanging out with friends, Alice, one of the team captains, is introduced to Uniqlo U. Experimenting with the platform's customization the next day, Alice quickly put together a mockup of the uniforms.

She shares the file with the rest of the team, encouraging everyone to give their input or alter the design.

 Days later, the captains meet to sort through their teammates' submissions, using elements of each design to create the final uniform.
Finally completing the design, Alice sends the digital uniform to every team member.

Individually they input their name and number on the back of the shirt, and press order. The platform ensures that each person receives a perfectly fit, high quality, custom uniform.
After little time, the items arrive. The players are surprised by the quality of the products. They trusted Uniqlo, but were unsure as to the final quality and customization. The clothing they received exceeded their expectations, and lasted them throughout the year.

The team members are left feeling more unified after the collaborative design process,

and pleased that they will be able to alter the design each year to accompany new players.

The following year, the team returns to the platform, something they plan to do for years to come.
Strategic Scenario: Uniqlo
After weeks of teasing their revolutionary new platform, Uniqlo launches 'UNIQLO U', their digital wardrobe customization platform. The first month following the launch sees over 90,000 accounts created. While many of the users merely browse, some take the opportunity to test out the system. Around 15,000 garments are ordered in that first month.
At a base level, Uniqlo gains increased media attention. The brand is suddenly being talked about in new contexts, particularly as a strong competitor for H&M and Zara. Company stock rises following product launch and successful deliveries. On a deeper level,

Uniqlo begins to collect detailed data reports

based on items created and purchased.

Users unknowingly provide valuable insight into fashion trends

by merely creating digital items. From these data points, Uniqlo identifies three categories of insight:
1.

Meta/ General Style Trends:

Tendencies towards general garment and style preferences
-In the first month, Uniqlo identifies a greater interest in winter clothing. This is to be expected as fall comes to an end. However, they also identify the fact these items are generally quite formal. Uniqlo discovers that there is a greater desire to look good while keeping warm. Fewer people are relying upon ugly puff jackets, opting instead for slim, stylish outerwear.
2.

Material Trends:

Tendencies towards material and color utilization in product creation
-First month's data indicates to Uniqlo that pink garments are in high demand. Higher than average rates of pink items are produced. Additionally, the discover that leather items are popular amongst their users.
3.

Style Element Trends:

Tendencies towards desired fits and stylized fashion elements
-Many formal button-ups are ordered within the first month following launch. Uniqlo identifies the fact that 'mandarin collars' are popular amongst users. The reformed stylish element is becoming a widespread feature in formalwear.
Product line relevancy:

Relevant style data can act as a catalyst for updating and retiring premade lines on clothing. Similar to how sales dictate product demand, style trends can more efficiently and accurately show desires and tendencies in purchasing.:
Sourcing of materials:

Materials more frequently utilized by users can be more effectively purchased by manufacturing supply.
Supply chain logistics:

More centralized and contained manufacturing reduces reliance on 3rd party vendors to produce large scale orders.
Buying strategy:

Influence of customized orders on mass consumers used to guide purchasing decisions for mother brand.
Mass production strategy:

Future investments can be made into machinery and fabrication process based on market uptake of certain styles
Regionalism:

Market variation by location no longer a negative influence on consumer response to goods.
Material waste reduction, Fostering market response, Increasing profit margins, Localized market update